Gosport to Fareham bus link legal challenge rejected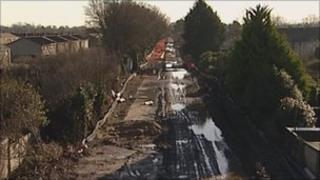 A legal challenge over the construction of a rapid bus route in Hampshire has been rejected by the Supreme Court.
Law Lords dismissed an appeal against Hampshire County Council over planning permission for the Bus Rapid Transport (BRT) Scheme from Fareham to Gosport.
Campaigners, led by resident Vivienne Morge, argued the planning process had not considered the conservation of bats living near the route.
The council's legal bill is believed to be hundreds of thousands of pounds.
Challenges had already been dismissed by the Court of Appeal and High Court.
Transport councillor Mel Kendal said: "We have never faltered in our commitment to this scheme, and while I appreciate that change is sometimes difficult, the BRT route will bring benefits to a great many people in the future."
The £20m route is being built on a railway line which closed in 1969.