Hampshire charity shops hit by clothes recycling thefts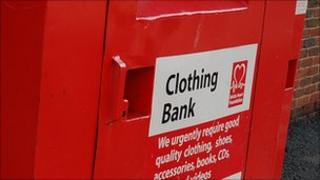 Clothes from recycling banks and charity shop doorways in Hampshire are being targeted by criminals, depriving charities of potential funds.
Thefts have been reported in Winchester, Southampton and Alton.
Margaret Richardson, the British Heart Foundation's Hampshire area manager, said: "They are robbing heart patients of a chance of survival."
The rising global value of textiles is thought to be behind the increase in thefts.
Ms Richardson said the charity's door-to-door collections had declined due to increased competition between charities and fears over scam collectors.
Sold online
A man in Winchester, who wished to remain anonymous, told the BBC a member of his family regularly makes up to £300 a time by taking clothes from clothes banks and selling them online, which he finds appalling.
"I'm absolutely disgusted. The fact someone can take this from someone who really needs to benefit from it is beyond me," he said.
Nationally, the British Heart Foundation said it lost £3m from thefts from clothing banks and from bags left in charity shop doorways overnight in 2010.
Hampshire police admitted unless someone was caught with a clear intent to steal, a prosecution was unlikely.