Young people evacuated from Portsmouth fire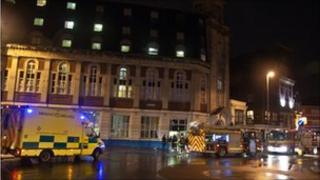 A sheltered housing complex for young people in Hampshire had to be evacuated after a fire started by an unattended pan, which spread to nearby clothes.
Crews were called to the Portsmouth Foyer in Edinburgh Road, Portsmouth, shortly after 2200 GMT on Monday.
More than 30 firefighters attended the blaze, which started on the fifth floor of the seven-storey building, operated by a housing group.
One person had to be helped from the building but no-one was hurt.
The fire was extinguished by midnight.
Two bedrooms
Sue Daniels, operations director at First Wessex Properties, which manages the self-contained flats, praised the swift response from fire crews.
She said: "All the rooms aside from the two bedrooms affected by the small fire were declared safe and the residents were able to return inside and back to their rooms late last night.
"It has been confirmed to us as a result of the investigation that the cause of the fire was purely accidental.
"Unfortunately a small two-ring cooker being used for cooking some eggs by one of the residents in their room had been left unattended and some clothes hanging close by caught fire."
Group manager Mark Wittcomb, of Hampshire Fire and Rescue Service, said: "All residents were successfully evacuated from the premises by firefighters and taken to safety with the assistance of the police."