Escaped pot-bellied pigs caught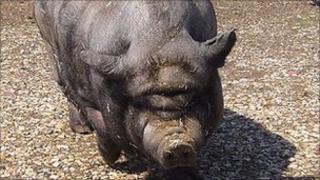 All three missing pigs which went on the loose in Southampton after escaping from a field have been caught.
Police said a number of sightings of the female animals, thought to be pot-bellied Vietnamese pigs, were reported in the Coxford area since Saturday.
Officers worked with the RSPCA to round up the pigs, which are set to be rehomed at an animal sanctuary.
It is believed the animals escaped from a field off Aldermoor Road through its fence.
A woman told the BBC on Saturday she had spotted two of the animals behind Coxford Community Centre.
They were also sightings reported on a local housing estate and grass verges.
Police said the incident might have been linked to a "breakdown in the relationship" between the couple which owned the farm.
The couple have since signed over the pigs into the care of an independent animal sanctuary.
Jo Barr, from the RSPCA, said: "They were kept in a field and the fencing was not completely secure and they have done what pigs like to do.
"Pigs are highly intelligent and sociable animals and they have gone out exploring in the woods."