New navy aircraft carrier work begins in Portsmouth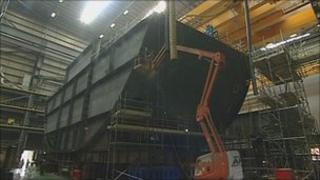 Work on the Royal Navy's two new 60,000-tonne aircraft carriers - HMS Queen Elizabeth and HMS Prince of Wales - has reached another milestone.
Shipyard workers in Portsmouth are beginning the second major phase of construction - building the massive stern section of HMS Elizabeth.
The ships were saved from defence cuts under the Coalition government, but HMS Prince of Wales will not enter service.
It will be built but not kitted out, and then kept as a reserve vessel.
The government's strategic defence and security review in October outlined cuts of £4.7bn over four years.
The new carriers will replace the 22,000-tonne Invincible class aircraft carriers, HMS Invincible, HMS Illustrious and HMS Ark Royal.
HMS Invincible, mothballed in 2005, has been put up for sale on a government internet auction website, while Ark Royal - the navy's flagship - is to be decommissioned this month and HMS Illustrious in 2014.
Ark Royal was decommissioned ahead of schedule in the defence cuts, along with RAF Harrier jump jets - meaning no planes will be able to fly from British aircraft carriers until 2019, when the HMS Queen Elizabeth is expected to enter service.
Kerry Knight, shipyard apprentice at BAE Systems, which is one of the major contractors working on the vessels, said: "It guarantees us a job really.
"The climate as it is, we know that at least for another 10 years, 15 years, we've got a job."
Welder Ken Smith said: "Obviously it's a prestigious job, biggest job that the navy have ever had, so it's really important.
"Then hopefully we'll follow up with some frigates after that."
BAE Systems project leader Paul Bowsher said he was "immensely proud to be involved in such a complicated engineering project".
"But it is really, really important for Portsmouth, it's important for BAE Systems and indeed for building a carrier for the navy for the future."
Parts of the vessels are being built in shipyards around the UK.
The first sections, made in Portsmouth, will be delivered to Rosyth in April 2012.
Last week, defence think-tank Royal United Services Institute said the Ministry of Defence (MoD) would have to make further savings of £1bn-£2bn a year if it was to avoid overspending by 2015.
Armed Forces Minister Nick Harvey said the review had significantly reduced underfunding but more work was needed.
In November, the UK and France signed a new treaty on defence that agreed to share aircraft carrier resources, by keeping at least one vessel at sea between the two countries at any one time.
Each will be able to use the other's carrier in some form, certainly for training and possibly for operations.