Escaped pot-bellied pigs on the loose in Southampton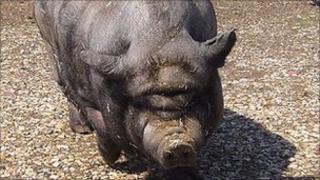 At least two pigs are on the loose in Southampton after escaping from a farm.
Police said they had received a number of sightings of the animals, thought to be pot-bellied Vietnamese pigs, since Saturday afternoon.
Officers said the RSPCA was dealing with the incident and have advised people to contact them if they see the animals, which should not be dangerous.
Police said the incident may be linked to a "breakdown in the relationship" between the couple which own the farm.
One of the pigs is white while the other is black and white.
A spokesman for Hampshire police said: "We have a number of sightings but they are still on the loose.
"It is a bit unusual but we have passed the case to the RSPCA.
"It appears there has been a breakdown in the relationship between the couple at the farm and somehow the pigs got loose."
A woman who contacted the BBC said she had spotted the pair behind Coxford Community Centre on Saturday.