Protest march in Portsmouth over 400 council job cuts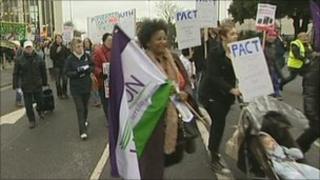 Protesters have taken to the streets of Portsmouth angry at plans to axe 400 jobs at the city council.
Demonstrators, including students angry over rises in university tuition fees, marched through the city.
The city council announced earlier this month it was planning to cut jobs blaming a reduction in its funding settlement from government.
The authority said talks will take place with unions. Unison said the cuts would be "huge and devastating".
Ben Norman, from Portsmouth Against Cuts, said: "[The planned city council job cuts] is a direct consequence of the government's austerity measures, but it is not the first.
"Students are already campaigning to defend their education and the crucial thing now is to unite these two movements."
Council staff were sent an e-mail outlining the plans which also included possible pay reductions, charging for car parking and cutting sick pay.
'No exception'
The message was sent by leader of the Liberal Democrat-controlled council Gerald Vernon-Jackson and chief executive David Williams.
In a statement, chief executive Mr Williams said: "Councils across the country are facing significant budget cuts and Portsmouth City Council is no exception.
"These cuts will unfortunately force us to lose posts this year."
He said the council was "working hard" to find ways to make cuts without impacting on residents.