Ex-wrestler and promoter 'Dr Death' Paul Lincoln dies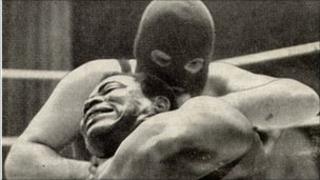 The former wrestler and promoter Paul Lincoln has died in Southampton.
Known during his career as "Dr Death", Mr Lincoln, who was 78, had been battling Parkinson's disease and cancer. He died on Wednesday.
The "god of wrestling" came to the UK from Australia in the 1950s and set up his own wresting promotions company.
He also owned the 2i's coffee bar in Soho, central London, where he is credited with helping the careers of music stars like Sir Cliff Richard.
Giant Haystacks
Former wrestler Frank Rimer, who worked for Mr Lincoln, said he was considered to be the greatest wrestling promoter of all time.
"He didn't get the label of 'god of wrestling' for nothing.
"People nowadays may associate Giant Haystacks with British wrestling but Paul was the entrepreneur who created a platform for wrestlers like him.
"Paul started promoting and wrestling with his old friend and grappling legend Rebel Ray Hunter.
"They had no TV coverage, unlike promoter Dale Martin, but they soon took the nation by storm.
"They put wrestling into cinemas, and made household names out of their boys."
Mr Rimer said rival promoter Mr Martin bought out Mr Lincoln - for a reported £1m - in the 1960s and the pair went on to work together.
Alongside promoting, Mr Lincoln also owned the 2i's coffee bar which hosted live music and is credited with helping the careers of stars like The Shadows and Ritchie Blackmore.
He is also said to have encouraged some of the musicians, including Billy Fury and Tommy Steele, to adopt names like the ones chosen by wrestlers.
Mr Rimer said many musicians, including Sir Cliff, hoped to attend Mr Lincoln's funeral in Southampton later this month.