Abnormal loads in Hampshire as brewery moves to Poland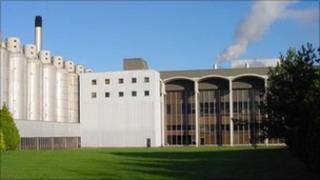 Motorists are being warned to expect a number of abnormal loads on the roads in Hampshire as a brewery moves its equipment to Poland.
The former Courage Brewery in Reading shut last year with its owners Heineken deciding to move operations abroad.
A brewing silo left Tot Hill at about 0930 GMT with a police escort and is being taken to Southampton docks.
Ten other loads will be moved, two at a time, along the route on 18, 21, 25 and 28 January, finishing on 1 February.
Jan Barfoot, from Hampshire Constabulary, said: "Due to the laden dimensions these loads cannot use the strategic network, so will be travelling on more minor roads.
"This will take them through the centre of Whitchurch, Sutton Scotney and Winchester, which is obviously going to impact greatly on these areas and adjoining roads.
"The first movement will involve just one load, so that any problems encountered can be ironed out before the double loads commence next week."
Previous owners of the former Courage site Scottish & Newcastle (S&N) announced its intention in 2008 to close the brewery, which was built in 1979.
S&N, which was later taken over, said it ended work at the 58-acre site next to the M4 due to an "over-capacity in the UK brewing industry".
The staged closure over two years meant many of the 362 workers managed to find new jobs or were redeployed within the company.