Arrest after CCTV of bike thrown on live rail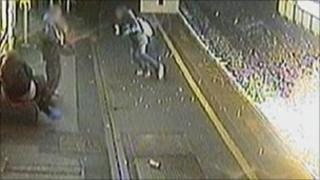 A man has been arrested after dramatic CCTV footage was issued showing a bicycle being thrown on to live railway lines in Hampshire.
Sparks were sent flying when the bike was pushed on to the tracks at Woolston station in Southampton.
A man is then seen to flee along with two other people on Friday evening.
British Transport Police said a 24-year-old man had been arrested on suspicion of endangering safety and he remains in custody.