Barclays Bank animal activists sentenced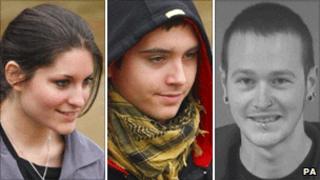 Three animal rights activists who admitted helping attack Barclays Bank because of the firm's then links to an animal testing lab have been sentenced.
Thomas Harris, 27, was jailed for 12 months after admitting conspiracy to attack four Hampshire branches in 2008.
Christopher Potter, 20, and Maria Neal, 21, both from Warwickshire, previously admitted taking part in the attacks in 2008, and got suspended jail terms.
Harris is already serving a four-year term for a previous hate campaign.
The sentence handed down on Thursday is to run consecutive to the term he is already serving.
'Young and idealistic'
He was part of Stop Huntingdon Animal Cruelty (Shac) which targeted companies linked to the Cambridgeshire-based Huntingdon Life Sciences (HLS) testing lab, it was heard.
Winchester Crown Court heard the three conspired to attack four branches by daubing graffiti such as "murderers" and "scum" on doors and gluing post boxes and cash machine slots.
They were also involved with painting "ALF" - standing for Animal Liberation Front - on the side of the buildings.
In addition, a car belonging to someone they mistakenly thought had links to a company supplying HLS during the conspiracy was damaged causing £7,500 of repairs.
Roger Climie, prosecuting, said that Harris, of Somerville Road, Ringwood, Hampshire, was in charge of Shac at the time of these attacks.
Sentencing the three defendants at Winchester Crown Court, Judge Keith Cutler said: "Each of you have pleaded guilty to a conspiracy which, quite frankly, reflects an appalling period of behaviour."
He described Potter and Neal as "young and idealistic" and added: "I hope when you look at yourselves two years ago you recoil in horror and think 'what on earth was I doing?'.
"I hope it will haunt you for the rest of your life."
The pair, both from Seggs Lane, Alcester, were each given 12-month jail terms suspended for two years and ordered to carry out 120 hours of unpaid work.
Barclays said it no longer had links to HLS but did through its asset management business when the attacks took place.
The hearing is the latest in a series of prosecutions of people linked to Shac.
In October last year, six activists, including Harris and his girlfriend Nicola Tapping, were sentenced for their part in attempts to close HLS down.
Other members of Shac, including founder members Gregg Avery, Natasha Avery and Heather Nicholson, were given lengthy jail terms in January 2009 for blackmailing companies linked to HLS.