5,000 chase 100 new Southampton Airport jobs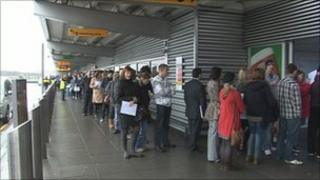 About 5,000 people turned up at a careers fair at Southampton Airport where 100 jobs are on offer.
The Hampshire travel hub held the event on Wednesday to recruit cabin crew, security, retail and ground staff for 2011.
Queues stretched around the terminal building within minutes of the event opening at 1000 GMT.
Human resources manager Caroline Morton said: "We weren't expecting quite as many people as we have seen."
She added: "For any future career fairs we will absolutely look for a larger accommodation where we can see more people."