Snow 'caused 22% Southampton Airport passenger drop'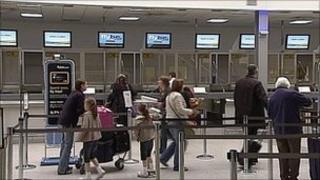 The severe weather saw passenger numbers at Southampton Airport fall 22% in December, BAA has said.
Many thousands of air passengers were affected as the airport, along with others across the UK, was forced to close temporarily.
Southampton, which sees about two million passengers a year, had the biggest proportional fall in across all of BAA's six UK sites in December.
BAA said the drop in traffic was almost entirely due to the severe weather.
No bonus
BAA said it had handled 7.2 million passengers at its UK airports in December, down 10.9% from a year ago.
Numbers were down 9.5% at Heathrow, BAA's largest airport, with passengers at Edinburgh down 18.4%.
BAA's chief executive Colin Matthew apologised for the disruption.
He has already said he would not take his bonus for 2010 because of the "unacceptable conditions for passengers" during the disruptions.
Separately, airline Flybe, which is also the largest airline operating at Southampton, said the disruption caused by the snow, which led to the cancellation of almost 2,000 of its flights, would cost it £6m.