Warship HMS Iron Duke leaves Portsmouth for the Gulf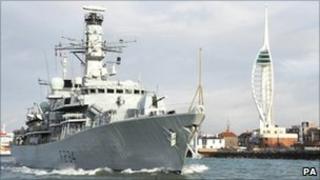 Crowds of people in Portsmouth have waved off a Royal Navy warship and its crew on a six-month deployment to the Gulf.
HMS Iron Duke left its home port earlier to patrol busy shipping lanes in the region.
Its aim is to protect against piracy and terrorism, protect Iraq's oil platforms and carry out exercises with the area's naval forces.
It is the first time the Type 23 frigate has been deployed to the Gulf.
In 2009, the 4,900-tonne ship was involved in the largest-ever cocaine seizure by the navy.
Its crew found 5.5 tonnes of pure cocaine with an estimated UK street value of £240m in a converted fishing vessel off South America in September during a six-month deployment to the Caribbean.
The year before, Prince William spent five weeks on board the ship as it patrolled the North Atlantic, as part of his military training.
The frigate was launched in 1991 and earlier this year was "affiliated" to the island of Jersey.