Loss of licence at Bembridge Airport 'worrying'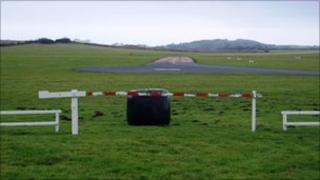 Aviators on the Isle of Wight say island businesses may suffer following the loss of its last licensed airstrip.
Since the start of January, only non-commercial aircraft have been able to use Bembridge Airport because its licence has expired.
The airport managers decided not to renew it following a lease term dispute with the landowner.
Laurie Gavaghan, chairman of the Isle of Wight Flying Club said businesses relying on it could be wiped out.
Flights which are not carrying passengers for commercial reasons can still land and take off from the airfield, but it is not supported by any air-traffic control.
Mr Gavaghan said in the summer about 100 planes bring in five or six people each, who then go on to spend money on the island, but pilots would now be put off using it.
He said: "It is worrying because the airfield brings in about £1m to the local economy.
"It's a very popular airfield with pilots right across the UK. We get pilots coming from Europe to land here and that's going to end in all likelihood.
"You only have to look at what happened at Sandown Airport, which was in a similar situation a year ago and the traffic movements there have dropped down to virtually nothing.
"The licence does make a big difference - there are a lot of pilots who won't fly into an unlicensed airfield."
Britten Norman (BN) Group has been leasing the land from Bembridge Airport Ltd for about 10 years, but negotiations over the terms of the lease broke down in last year.
Dispute over control
Bembridge Airport said in a statement: "BN Group has decided that it no longer wants to undertake this role with effect from 1 January 2011.
"Despite discussions over an extended period, BN Group has not changed its mind so the airport's owners must make alternative arrangements in order to keep the airport open.
"The need for it to be licensed was largely to satisfy BN Group's requirements. But the CAA [Civil Aviation Authority] is happy that the airport remains open on an unlicensed basis.
"This is quite usual for airports and aerodromes used largely for recreational and leisure purposes."
Bembridge Airport said it had "neither the expertise nor resources to take over the management" of a CAA licensed operation.
BN Group said it invested about £250,000 a year in the airport and looked after the upkeep of the runway and air traffic control.
But it said it was "unacceptable from a safety standpoint" that it was not given full control over who could use the airfield.
William Hymett, chief executive of BN Group, said: "We found this offer extremely disappointing and felt unable to accept it.
"Bembridge remains an important site for us which we are keen to continue to support.
"We feel it's also unlikely Bembridge Airport remains viable without a business like ours subsidising it."