'Psychic' Hampshire worker wins £1m EuroMillions raffle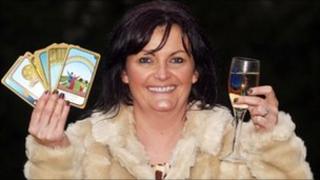 A "psychic" who set up a syndicate at work after predicting a lottery win is celebrating after scooping £1m.
Ocean Kinge, 45, told friends about a "feeling in her bones" and set up the syndicate with 14 other workers at West London Training in Hampshire in August.
They each won £66,666.66 by sharing a £1m prize in the EuroMillions Millionaire Raffle on Christmas Eve.
Catering manager Mrs Kinge said she discovered her special talents after visiting a psychic at the age of 19.
"The lady said to me: 'You have psychic powers my love, did you know?'," she said.
The married mother-of-three who lives near Aldershot claims she can pick up "energies" through psychometry - holding on to someone's jewellery and describing what she feels.
Mrs Kinge said she only senses good things and would not practise the technique if it uncovered bad omens.
She said: "Out of the blue one day I just said: 'Let's start a lottery syndicate because I've just got a really strong feeling we are going to win a big win at the end of the year'.
"It was so strong I could feel it in my bones.
"I said it was going to be a million pounds - don't ask me how, I just knew."
Asked why she entered in a syndicate rather than alone, Mrs Kinge said: "I don't know. I just had a feeling it had to be in a syndicate."
Colleagues who decided not to join the syndicate were "gutted", she said, while those who did could not believe that her prediction had come true.
The EuroMillions Raffle game forms part of the weekly EuroMillions draw with each player in the main draw receiving a randomly generated number which enters them into the raffle with a prize of £1m.
Mrs Kinge said she is not able to predict winning numbers.
The lottery winner plans to spend some of her money on her sons, including helping 23-year-old Dean go on a dream trip to Thailand.