'Bambi' rescued from frozen Hampshire pond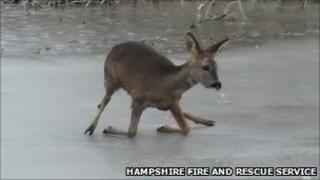 A real life "Bambi" had to be rescued by firefighters when it became stuck on a frozen pond in Hampshire.
Worried motorists raised the alarm after seeing the roe deer floundering on the ice in Boarhunt Road, Fareham, at about 0800 GMT.
Rescuers used inflatable rescue paths to reach the animal before assisting it to dry land.
The deer was taken to an RSPCA rescue centre where it is recovering before it is released back into the wild.
Buster Brown, Hampshire fire service animal rescue specialist, said: "On my arrival I noticed that the deer appeared to have exhausted itself whilst trying to escape and was now stuck in the middle of the pond on the ice.
"The animal was recovered using the same techniques that we would use to rescue people who might become trapped on ice, and this rescue provided a excellent opportunity for crews to utilise and practise the procedures."