Bleeping alarms spark Dorset fire service calls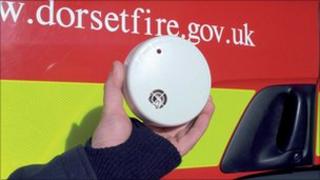 Dorset fire service has asked people who have received free smoke alarms to stop calling them if they become faulty or start bleeping.
The service said it is receiving up to 25 calls a day about the Dicon alarms fitted over the past few years.
Letters will be sent to 20,000 people explaining it is their responsibility to replace the alarms which have had a "higher than expected" failure rate.
Dicon said many batteries fail before their 10-year life due to false alarms.
'Nuisance alarms'
The fire service is now fitting FireAngel alarms which also have a 10-year battery life but display a customer helpline number on the unit.
Dave Myers, community safety manager, said: "The Dicon alarms were purchased as part of a national project, enabled and endorsed by the government.
"However, there has been a higher than expected failure rate of these devices, and this has been acknowledged by the manufacturer.
"It also means that the expected battery life of 10 years is proving to be considerably less so people all over the country, including Dorset residents, who have had an alarm fitted as part of our crucial community safety work, are finding that their alarms are emitting the low battery warning beeping earlier than expected."
John Walsh, director at Sprue Safety Products which manufactures the Dicon alarms, said: "If there has been a number of nuisance alarms, like when someone is cooking, it can severely shorten the life of the batteries.
"For instance, if an alarm goes off for two minutes once a week it will halve the life of the battery."
People in Dorset have been advised to visit the fire service's website for safety advice.