New Forest acorn glut blamed for pony deaths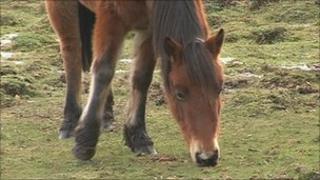 More than 30 New Forest ponies are believed to have died from acorn poisoning this autumn.
The deaths follow an exceptional crop of acorns which fell early, and can cause liver damage in ponies.
The forest authorities have extended the medieval custom of grazing pigs in the open forest - they eat up the acorns without coming to harm.
Commoner Lyndsay Stride said "The risk to ponies is greater, therefore the need for the pigs is greater."
The number of pigs let loose has been doubled from 300 to 600.
'Gorge themselves'
Jonathan Gerrelli, responsible for welfare of the New Forest ponies, said: "Occasionally you get some animals that just seem to get a real taste for them and seem to gorge themselves on them."
It is thought the deaths could continue into 2011 as the poisoning takes some time to affect the ponies.
About 4,000 ponies, all owned by commoners - forest residents with rights attached to their property - wander freely around the 141,097 acre (571 sq km) New Forest National Park.