Killer of baby daughter and girlfriend jailed for life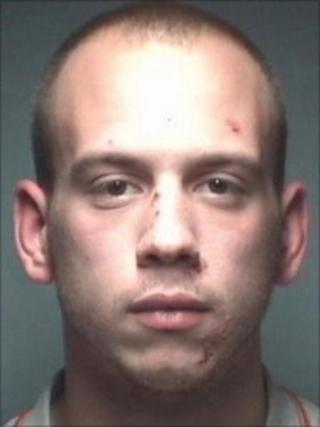 A man who stabbed his girlfriend more than 30 times as she slept, before killing their daughter, has been jailed for life for their murders.
Anthony Marsh, 22, stabbed Stephanie Bellinger, 24, and 10-month old Lili at their home in Totton, near Southampton, in February.
He admitted the killings on the grounds of diminished responsibility, claiming he heard voices, but denied murder.
Marsh was told he would have to serve at least 26 years.
A jury at Winchester Crown Court found Marsh guilty on both counts on Tuesday after 10 hours of deliberations.
Earlier the court was told that Marsh did not kill the couple's two-and-half-year-old son, but fled from the house, leaving the child locked inside for more than 30 hours.
The prosecution said the killing of receptionist Ms Bellinger had "powerful elements of sexual motivation and revenge" and her body had been "left as if she was a victim of a sexual assault".
Their daughter was stabbed once through the head as she lay on the same bed.
Ms Bellinger's mother and sister broke into the family home after becoming worried and were confronted by a "truly distressing scene", the court heard.
Marsh was arrested a few days later in nearby Fareham and told police he heard voices in his head telling him to kill Ms Bellinger.
The court heard he went downstairs, got a knife and attacked his partner who was asleep.
The jury was told during the two-week trial that Marsh suffered from bipolar disorder and the family were in £13,000 of debt, partly because he had lost his job after stealing from a pub he had worked in.
He often fled the family home and went to other cities, sleeping rough before handing himself in at hospitals, the court was told.