Southampton students stage tuition fees protest march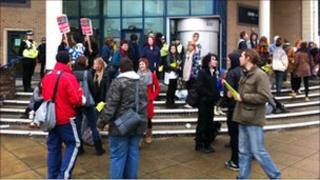 Students protesting against increasing tuition fees and university budget cuts have marched through Southampton.
About 30 students from two colleges in the city walked through streets and shopping centres and also spent about 20 minutes on the steps of the BBC.
Up to 20 officers and vans followed the protest, which was described by police at the scene as "peaceful".
Students are staging marches across the UK in what is the third day of protests in the past fortnight.
Maud Morrish, a student at the sixth form academy Tauntons College, said she and two friends had initiated the protest in Southampton.
"We walked into the canteen at college and we said 'right, we're going on a protest' and these are all the people that have come out with us," she said.
"We've walked from Tauntons College, down through Shirley, right across the town, it's been brilliant.
"People have been so good and we've walked for hours.
"We got everyone on board and and everyone helped us round other people up."
Fees vote
She said students from Southampton City College joined the protest after police put them in touch with the Tauntons College protest.
There were also protests in London, Leeds, Birmingham, Sheffield, Edinburgh, Cambridge, Liverpool, Nottingham, Newcastle, Manchester, Oxford and Bristol.
National Union of Students leader Aaron Porter has attacked the Liberal Democrats for failing to keep their promise to vote against raising fees.
MPs are expected to vote on the fees package before Christmas.
It remains uncertain whether Liberal Democrat ministers will abstain or support the proposals to increase tuition fees to up to £9,000 a year.
At the general election, Liberal Democrat candidates gave personal pledges to students that they would vote against any increase.
Business Secretary Vince Cable has said he might now abstain in the vote.