Firefighters tackle Hampshire thatch fire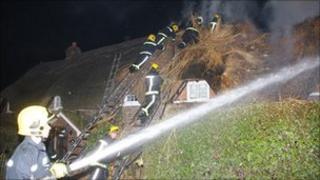 More than 60 firefighters were needed to tackle a major thatch fire in Hampshire.
The emergency services were called after flames were seen coming from the roof of the property off Berrywood Lane near Alton on Friday evening.
The roof and first floor of the home were badly damaged as it took fire crews several hours to get the blaze under control.
No-one was hurt and the cause of the fire is being investigated.
Watch manager John Amos said: "The occupants had already evacuated and a neighbour was extremely helpful in advising us where to locate risks in the property such as the gas supply and other services.
"The local knowledge of the Alresford crew also assisted in quickly finding the location of the water supply from a nearby hydrant."