Hampshire's Forest Of Bere gets 20,000 new trees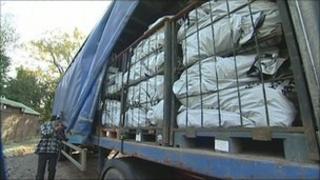 More than 20,000 trees have arrived at a Hampshire forest ready to be planted as part of an effort to tackle climate change.
The young trees will be planted at the Forest Of Bere, near Wickham.
Oak, ash, sweet chestnut, cherry, Scots pine and Douglas fir trees, which all perform well in hot climates, have been chosen for the forest.
The Forestry Commission, which runs the forest, aims to deliver 340,000 trees across southern England this winter.