Hampshire police to borrow £1.5m for new gadget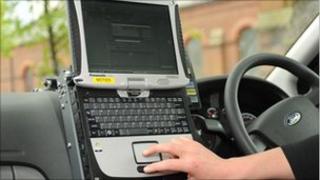 Hampshire police is to borrow £1.5m to fund a new gadget designed to give officers access to their computers while on the move.
The police authority approved the purchase of 159 mobile data terminals to be fitted to patrol vehicles.
The force said they will save £2.1m per year with officers spending more time on patrol rather than the station.
Southampton MP Alan Whitehead said "savage" government cuts were forcing police "to do more with less".
Hampshire police has already announced plans to cut 1,400 jobs in order to reduce its budget by £70m as well as sharing resources with Thames Valley Police.
The new devices will allow officers to access applications that run on their desktop computers while away from the station.
But to finance the purchase and the training of 1,000 officers, the police authority will borrow about £1.5m, to be paid back over a five-year period.
Mr Whitehead, Labour MP for Southampton Test, said: "For the force to even retain the sort of level of service it was able to provide beforehand they are going to have to do far more with less.
"There is risk with this, but I think there is always a risk when investing in efficiencies, that it won't result in the savings which were first thought."
A spokesman for Hampshire Police Authority said the devices would enable officers to reduce unnecessary journeys to police stations to complete administrative tasks.
Councillor Adrian Collett, vice-chair of Hampshire Police Authority, said: "We are very pleased to enable officers to be more visible to our local communities by undertaking work out in the field that would previously have had to be carried out at a station."