Men admit pushing bin hit by train on to railway line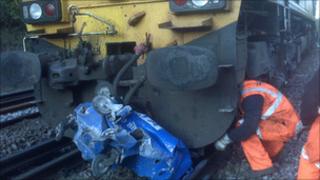 Two men who pushed a wheelie bin on to a rail line in Hampshire which was later hit by a train at 55mph have pleaded guilty to endangering safety.
The incident at Liphook sparked long delays for football fans travelling to London for the Portsmouth versus Chelsea FA Cup final in May.
CCTV caught Ashley Keatings, 20, and Jacob Kirby, 20, bundling the bin on to the tracks in the early hours.
Both are due to be sentenced at Winchester Crown Court on 10 December.
A freight train hit the large steel bin at 55mph sending sparks flying and causing damage to the tracks.
The impact did not damage the train but meant Network Rail engineers had to spend several hours working at the site before services resumed.
Keatings, of Hillbrow Road, Liss, and Kirby, 20, of Station Road, Liss, were arrested a few days later following a public appeal.
Det Con Phil Bibbings, from British Transport Police, said: "I cannot over-emphasise enough the dangers associated with this type of crime.
"Thankfully this time, through luck, no-one was injured and no trains were damaged, but we may not be so fortunate if this happens again."