Fareham planning row homes approved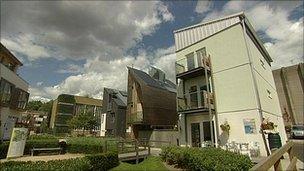 Plans for more than 7,000 homes north of Fareham, Hampshire, have been agreed despite objections from residents.
The borough council approved the plans as part of its strategy to identify areas for new housing.
Leader of the Conservative-run council Sean Woodward said there was a "tremendous need for housing" in Fareham.
However campaigners have urged a re-think on building on greenfield sites north of the M27 motorway.
The homes plan is part of a scheme to find locations for new housing and businesses over the next 15 to 20 years. It was approved on Thursday by 18 votes to 10, with one abstention.
The council had been awarded £200,000 to develop plans for green housing and infrastructure under the previous government's "eco-towns" initiative.
Caroline Dibden, Protect Rural England South Hampshire, said: "This not the right site, nor is there the need for this size of development.
"It should be neighbourhoods and community groups who should be asked how their neighbourhood should be developed."
Mr Woodward said a council survey had shown people in wards neighbouring the development area opposed it, but other residents were in favour of the proposals.
"This is the beginning of the process, this will still have to be tested at a inquiry next summer," he added.
Related Internet Links
The BBC is not responsible for the content of external sites.