Southampton to Cowes ferry users' anger at Red Jet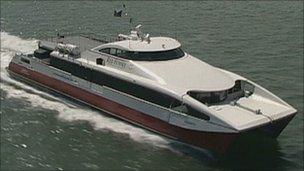 Passengers on a Solent high-speed ferry service have criticised recent delays and cancellations.
On Wednesday, Red Funnel was running just one Red Jet crossing an hour at peak times instead of its usual two.
Commuter Kieron Lanning said: "It's disgusting people were left standing in the cold and rain and not told about what was happening."
Red Funnel apologised and blamed a combination of bad weather, including gales and fog, and technical faults.
In a statement, chief executive James Fulford said: "I personally apologise to all our customers who have experienced delays and disruptions in the last week."
He said floating storm debris damaged the waterjet mechanism of both Red Jet 3 and Red Jet 5 on a single day.
Other "controllable technical faults" - a broken valve and turbo unit on Red Jet 3 and a generator failure on Red Jet 5 - have been repaired.
Kieron Lanning, who travels to London from the island each day, said persistent delays were "a complete disaster" for commuters.
There is currently no back-up vessel available as Red Jet 4 is undergoing its annual refit and is not due to return to service until Tuesday.
Mr Fulford insisted having an extra vessel on stand-by would not be financially viable.
The Red Funnel vehicle ferry service has been unaffected.
Related Internet Links
The BBC is not responsible for the content of external sites.