Hampshire council to cut museum staff and opening hours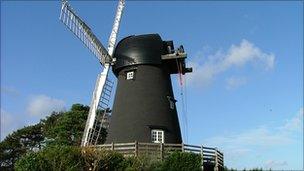 Plans to cut 26 posts and reduce opening hours across Hampshire's museums have been approved.
The money-saving cuts will mean four museums will rely solely on volunteers.
Of the 116 full-time posts in the museums service, nearly a quarter will be cut after the plans were agreed at a meeting on Wednesday.
Hampshire County Council said having volunteers running the four museums in Bursledon, Fordingbridge and two in Alton, would allow them to remain open.
Anticipated government cuts for museums led the council to seek savings of £1m.
The museums are set to be left with no paid staff from April 2011 are Bursledon Windmill, near Eastleigh, Rockbourne Roman Villa, Fordingbridge, and the Allen Gallery and Curtis Museum, both in Alton.
Opening hours will also be cut by up to 18 a week and some museums will share curators.
Paul Vickers, of Friends of Aldershot Military Museum, said losing curators at some museums would lead to specialist knowledge being lost.
He said: "With the best will in the world - and we don't doubt the professionalism of the curators - we don't see how they can have the in-depth knowledge of three so very different regions.
"You have Andover's Iron Age archaeology on the one hand and the Aldershot military 19th Century history on the other."
The county's museums service, overseen by the Conservative-controlled council, already has between 140 and 200 volunteers providing support services at various heritage sites.
Councillor Margaret Snaith-Tempia said: "Some of these museums, where perhaps in a whole day they may have 15 people through the door, it just is not sustainable.
"Of course it's sad - I make no bones about that.
"We have a very, very good museum service, but we simply need to save. We have very uncertain times ahead of us."
Related Internet Links
The BBC is not responsible for the content of external sites.