Portsmouth mosque poppy protest police study CCTV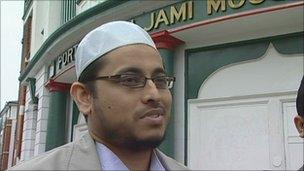 Police are reviewing CCTV footage after a demonstration at a Portsmouth mosque in protest at remembrance poppies being burnt by an Islamic group in London.
About 140 people gathered outside the Jami mosque, in Southsea, in two separate gatherings on Saturday.
A 20-year-old man from Portsmouth was arrested on a suspicion of affray and bailed until 15 December.
The group was protesting after Muslims Against Crusades burnt poppies in Kensington on Thursday.
As the clock struck 1100 GMT to mark the anniversary of Armistice Day, they burned a model of a poppy and chanted, "British soldiers burn in hell".
Police said a number of items were thrown during the protest in Portsmouth, including eggs, a golf ball and firecrackers.
Officers will look at footage taken by cameras near the mosque in an attempt to identify offenders.
A poppy was also painted on the front of the mosque on Friday.
The imam at the mosque said he was saddened by the protests and condemned Thursday's poppy burning.
Muhammad Muhi Uddin told the BBC the mosque had taken an active role in supporting Remembrance Day and the poppy appeal.
Det Insp Nigel Oliver, of Hampshire police, said: "This was an unusual event for Portsmouth and for the most part the demonstrations were peaceful.
"We are, however, pursuing those responsible for causing trouble and we'll be dealing with them appropriately."
Related Internet Links
The BBC is not responsible for the content of external sites.