Man arrested during Portsmouth mosque poppy protest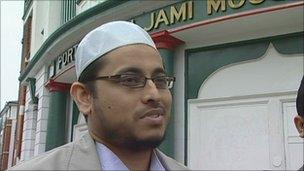 A man was arrested at a demonstration outside a mosque in Portsmouth held in protest at remembrance poppies being burnt by an Islamic group in London.
On Friday, a poppy was painted on the front of the Jami mosque, on Victoria Road North, in Southsea, and on Saturday two protests were held.
More than 100 people gathered outside at lunchtime and later in the evening.
The Imam at the mosque said he was saddened by the protests and condemned Thursday's poppy burning.
A spokesman for Hampshire Police said one man had been arrested on suspicion of a public order offence.
He said there were no reports of damage to the mosque but officers would continue to monitor the situation.
Muhammad Muhi Uddin told the BBC he had no idea why the Jami mosque had been targeted because it had taken an active role in supporting Remembrance Day and the poppy appeal.
Mr Muhi Uddin said: "It deeply hurts me. If they [protesters] talked to us then we would explain where we stand.
"It's a matter of respecting each other, it's not a matter of religion. In a society, whether we're Christian or Muslims, we should respect each other."
Sheikh Fazle Abbas Datoo, from the Al Mahdi mosque in Wickham, was reading a prayer at Sunday's open-air service in Portsmouth.
The Portsmouth protest was a reaction to Islamic group Muslims Against Crusades burning poppies in Kensington, west London, during a two-minute silence on Thursday to mark the anniversary of Armistice Day.
As the clock struck 1100 GMT, they burned a model of a poppy and chanted "British soldiers burn in hell".
About 50 men linked to the English Defence League (EDL) staged a counter protest but the groups were kept separate by police.
Two Muslim protesters were arrested for public order offences and the founder of the EDL was charged with assaulting a police officer.
Related Internet Links
The BBC is not responsible for the content of external sites.