Protesters march through Portsmouth over service cuts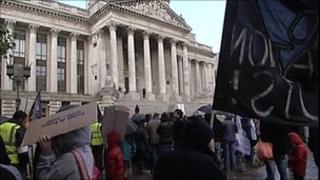 Trade unionists fighting the spending cuts announced by the coalition government have protested in Hampshire.
More than 100 marchers gathered in Portsmouth's Guildhall Square, demonstrating against cuts to services, including up to 500,000 job losses.
Pete Kitching, from public sector union Unison, said "ordinary people" were getting angry over the cuts.
Councils will see a 7.1% annual fall in their budgets over four years as part of the government's Spending Review.
Repairing finances
Demonstrators waved placards and chanted during the short march to Portsmouth and Southsea Station, at about 1200 BST.
Mr Kitching, from Hampshire Unison, believed there would be more demonstrations over the next few months.
"If you lose jobs in the public sector you lose services," he said.
"The people are getting angry seeing what they are losing.
"It's about the ordinary working person, people looking for work."
Chancellor George Osborne announced the government's Spending Review earlier this month.
It outlines the government's spending plans for the next four years and includes extensive cuts, which are designed to repair the public sector finances, and cut borrowing.
Public sector union Unison has attacked the move, saying cutting public sector employment by such a level would have a knock-on impact on private sector jobs.