'Arson' destroys dinosaur model on Southsea Common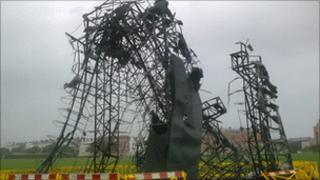 A life-size model of a dinosaur has been burned down in a suspected arson attack in Hampshire.
The 53ft (16m) high ultrasauros was erected on Southsea Common at the start of the summer as part of an exhibition by artists Heather and Ivan Morison.
Firefighters were called just before 0300 BST but the metal and fibreglass model has been destroyed.
The ultrasauros was thought to have been the largest dinosaur that lived, but the claims were found to be false.
'Completely collapsed'
Scientist Professor Jim Jensen had put together the dinosaur from many different bones, then sold the story that it was the largest dinosaur in history. He was found out several years later.
Acting crew manager Scott Yule, from Hampshire fire service, said the model's location meant crews could not gain easy access.
"We were called to reports to a dinosaur alight on Southsea Common - not something you get every day on the call log.
"It was the fibreglass coating which really caught alight.
"The neck of the dinosaur is on the floor, completely collapsed, it is quite a sight, unfortunately."
Council chiefs said they hoped the statue would have become a permanent installation on the common after it had finished a tour.
It was due to be put up in Colchester on 10 October before travelling to Cardiff.
Gerald Vernon-Jackson, the leader of Portsmouth City Council, said the model had proved popular with families over the summer.
"It's incredibly sad.
"Families have loved it, kids have loved climbing all over it."
Hampshire police said the cause of the fire was confirmed as "doubtful".
A spokesman said: "Officers from Portsmouth's target patrol team are looking into the matter."
He said police appealed for witnesses to get in touch.
The model, called Luna Park by the artists, was due to stand on Southsea Common until 10 October.
It had been visible from the Isle of Wight.