Hampshire snow review urges more gritting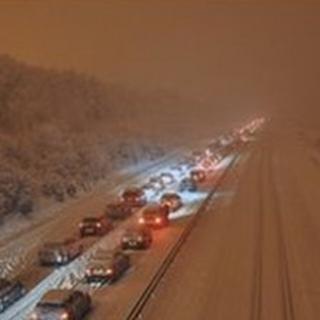 Roads around important community services in Hampshire should be gritted during extreme cold weather, a panel has recommended.
A review of the county council's performance found it coped well last winter and helped other authorities.
But the panel found access was blocked to vital services not on the main gritting routes and advised that these areas be treated in future.
The county council will consider the findings and look to make improvements.
The panel found it was difficult to get to smaller schools, GP surgeries, bus depots, train stations and other community areas during the cold snap.
It wants roads around these areas classed as "Community Routes" and new vehicles brought in to keep them clear.
Councillor Ken Thornber, leader of Hampshire County Council, said: "There are always lessons to be learned from events such as these.
"We are making good progress with plans to increase our resilience to severe weather in the future with increased salt supplies, over 1,000 more grit bins in the community and new revised salting routes."
He also said he would be writing to the government to ask for clarification on the public and shop owners' legal liability regarding clearing snow and ice on pavements outside their own properties.