Concern over objects thrown from Ringwood A31 bridge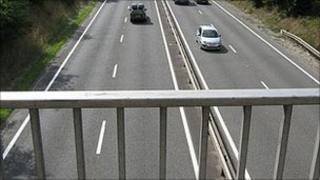 A community group is calling for action to stop youths throwing objects from a footbridge over a busy Hampshire road.
Incidents on the A31 footbridge at Poulner, Ringood, have risen over the past five years, with 10 reported in 2010.
Stephanie Bell, of Community First New Forest, said: "We really want to put a stop to it before someone dies."
The group is working with police to educate school children who use the bridge linking two parts of the town.
'Enforce action'
Sgt Rick Gallagher, from Ringwood police, said he thought there was an "under-reporting of this crime" as drivers are unlikely to report object-throwing incidents as they continue their journeys.
Community First New Forest, a council for the local charity and voluntary sector, is also calling for the bridge to be caged.
However the costs of renovating the 1960s concrete and metal bridge - one of 45 over roads in Hampshire - could be prohibitive.
The Highways Agency which is responsible for the bridge says it is looking at issues surrounding it.
Sgt Gallagher said an education programme aimed at school children would "make sure they understand the possible consequences of what they're doing."
Sgt Gallagher added: "Don't hang around on the bridge. We will enforce and take action against anyone who drops anything over the bridge."