Museum home for Langstone Harbour Saxon logboat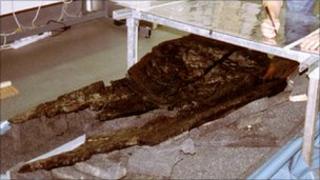 A 1,500-year-old logboat found buried in the mud flats of a harbour in Hampshire is set to get a new home.
The Saxon boat excavated from Langstone Harbour in 2003 will go on show at Portsmouth city museum.
The hollowed out oak tree formed a wooden canoe, which was probably used by local people around AD500.
The boat will be displayed for one day on 23 October and the council plans to permanently include it in a new display at the museum in 2011.
Oldest watercraft
The Mary Rose Trust has spent seven years conserving the logboat, which was found in 2002 by local enthusiasts John Cross and Arthur Thomas Mack who were searching for prehistoric flint tools in the intertidal zone of the harbour.
Radio carbon dating has placed the canoe's age somewhere between 400 and 640 AD, a period spanning late Roman times, through the Dark Ages to early Saxon.
The boat was only the second to be discovered in the Solent region and is currently the oldest watercraft remains from the area, Portsmouth City Council said.
Julie Satchell, head of research at Hampshire and Wight Trust for Maritime Archaeology, said: "It is fantastic to see the log boat come out of conservation.
"The boat and the material found around it provide important information from the early Saxon period, for which little other evidence survives.
"Research has shown the boat was pulled up onto an area of salt marsh, worked wood pieces trapped under the boat show this area was being used by the local population - possibly for marsh grazing, fowling or fishing related activity."
Jennifer Macey, assistant curator at Portsmouth Museum and Records Service, said: "Although we know there were small settlements at Buckland and Fratton by the time of the Domesday survey, very little Saxon archaeology has been found in Portsmouth.
"The logboat will therefore help us to gain a greater understanding of the activities of people in the local area before they settled on Portsea Island."