Award for army officer who captured Afghan bomb factory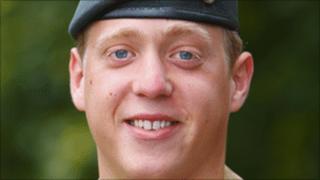 An Army officer is to be honoured for capturing a heavily-guarded Taliban bomb factory in Afghanistan.
Lt Charlie Winstanley showed "selfless commitment" in leading his 30-strong platoon against Taliban forces last November.
Fighting conditions were so fierce that 12 of the platoon were unfortunately lost after being killed or wounded.
He was awarded a Mention in Despatches, the oldest form of recognition of gallantry within the UK Armed Forces.
Lt Winstanley and his platoon from the 4th Battalion The Rifles attacked a compound in Sangin district, Helmand Province, that was very heavily defended.
As machine guns fired, grenades and rockets landed metres from the attacking troops.
Diplomatic skills
A total of 15 devices inside the bomb factory were discovered - almost certainly saving lives of their fellow soldiers over the coming days and weeks.
A vital part of the officer's role in Helmand is working alongside his Afghan army counterparts.
The Ministry of Defence said his diplomatic skills and his example to the Afghans succeeded in boosting their capability and confidence in taking on the Taliban.
The Lieutenant's citation talks of his "selfless commitment" and that his courage under fire had been "exemplary".
"For leadership in the most demanding circumstances Winstanley is highly deserving of public recognition," it read.
Lt Winstanley joined the Army in 2008 and is currently an Infantry Platoon Commander with 4th Battalion The Rifles.