Type 45 destroyer HMS Diamond sails into Portsmouth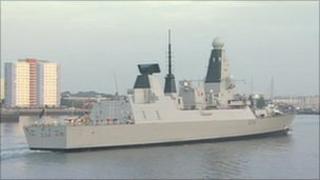 The latest of the Royal Navy's new Type 45 destroyers has docked in Portsmouth.
HMS Diamond arrived just after 0700 BST to a small crowd of people who turned out for the early morning arrival.
It is the third of six new vessels to be built as part of a £6bn project to create the most advanced warships in the world.
About a third of the vessel, as with her sister ships HMS Daring and HMS Dauntless, was built at the city's BAE Systems, securing hundreds of jobs.
A welcoming ceremony took place at 1400 BST when the warship is handed over to the Royal Navy.
Work, including the bow sections of the vessels, was carried out in the city with final assembly work completed in Scotland.
The new Type 45s are replacing the Navy's ageing fleet of Type 42 destroyers, such as HMS Glasgow.
They have nearly twice the range - about 7,000 miles - and are 45% more fuel efficient than the Type 42 destroyers they are replacing in the £6bn project.
Smaller crew
Shipyard workers in Portsmouth are now involved in building major sections of the Navy's two new aircraft carriers as part of a separate £5bn project.
Union leaders said they were confident the project would survive the government's defence cuts, expected to be announced next month.
John Stevenson from the GMB union in Portsmouth said he was remaining positive.
He said: "On the whole it is all rumour and speculation and as far as we are concerned we are going to go ahead and build the carriers.
"We have got to - the city needs them, we need them."
However, defence minister Gerald Howarth was tight-lipped ahead of the announcement.
He told BBC News: "I know a lot of jobs depend on it.
"My lips are sealed so we will have to wait and see the outcome of the review."
The vessel has a state-of-the-art radar and missile system, and an ultra-modern shape.
It is also almost twice as big as the older ships it is replacing but requires a smaller crew - 190 sailors, compared with 280 personnel on the older ships.
The other three Type 45 destroyers still to arrive at Portsmouth at later dates are HMS Dragon, HMS Defender and HMS Duncan.
HMS Diamond will now start a 10-month sea trial and operational sea training before formally going into service in July 2011.