Animal ban for man who strangled dog in Basingstoke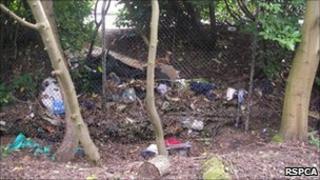 A man who strangled a dog with its lead because his sister did not want it any more has been banned for life from owning or keeping an animal.
Stephan Graham Bullock, 23, of Basingstoke, admitted strangling rescue dog Alfie Moon, a six-year-old German shepherd-lurcher cross, in March.
The animal was found half buried in a wooded area in Thornycroft Lane with a lead wrapped tightly around his neck.
Bullock was also given a 12-month supervision order.
Basingstoke Magistrates' Court also ordered that he carry out 50 hours of unpaid community work and pay RSPCA costs of £400.
Went limp
The court heard veterinary evidence and a post-mortem examination showed the dog had been asphyxiated by the lead and would have suffered considerably.
Bullock, of Walnut Way, admitted it took two or three minutes of the dog whimpering before the animal went limp and died.
Alfie was microchipped and had been rehomed by the RSPCA Millbrook Animal Centre in Surrey some time before.
The original adopter had passed him on and eventually he came to be looked after by Bullock's sister.
However she was unable to cope with the dog so she asked Bullock, who was living with her at the time, to take him.
He walked the dog to a vet for help and was advised to call the RSPCA, but instead he walked to a wooded area and he strangled Alfie using the lead.
Bullock pleaded guilty on 7 September to failing to protect Alfie from pain, injury and suffering in contravention of the Animal Welfare Act 2006.
His defence asked the court not to give him a custodial sentence since he has been accepted into the Army and would miss his basic training.
Jan Edwards, RSPCA inspector, said: "This case is particularly distressing as the dog should have been placed back into RSPCA care under the terms of adoption, rather than being passed on to people who could not care for him.
"In Alfie's last moments he would have suffered pain and extreme distress whilst being strangled by Bullock - a brutal and calculated act which fills me with sadness, disbelief and horror."