Portsmouth's 'haunted' manor house fails to sell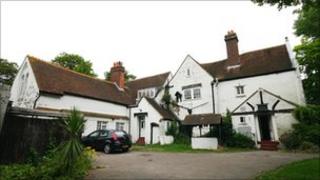 A manor house alleged to be one of the UK's most haunted properties has failed to sell at auction.
Security guards have reportedly refused to work alone at night at Wymering Manor in Portsmouth, believed to be the city's oldest house.
The Grade II listed building, which is in need of repairs, failed to meet its reserve price of £375,000 at auction at London's Grand Connaught Rooms.
The council plans to speak to "under bidders and other interested parties".
The former vicarage, which has also been a monastery and a family home, was a youth hostel from 1960 to 2006.
Wymering, which was mentioned in the Domesday Book in 1086, has appeared on the television programme Most Haunted and the video website YouTube.
So-called paranormal activity, such as sudden drops in temperature, children whispering and apparitions, have been documented by enthusiasts.