Solent ferry fire and tanker crash exercise takes place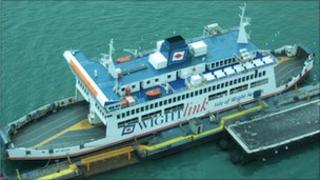 A rescue exercise in which a car ferry caught fire and hit a tanker off southern England has been held.
Response teams simulated how to put out a fire on board a Wightlink cross-Solent ferry which then collided with a fuelling tanker in Portsmouth Harbour.
They were also tested on dealing with a subsequent pollution incident.
A Naval base spokeswoman said no members of the public were at risk during the training day and "lessons were learnt and it went well".
The harbour master, Associated British Ports Southampton and the Maritime and Coastguard Agency (MCA) co-ordinated the response action for the annual test.
During the day, Hampshire Fire and Rescue Service teams were transferred by tug on to the ferry to deal with the fire.
'Casualty' transferred
About 50 volunteers, playing the part of passengers, were evacuated from the ferry once it had berthed at Portsmouth Naval Base.
A "casualty" was then transferred from a Ministry Of Defence (MoD) Police launch to a coastguard helicopter in the northern harbour.
This year's exercise was directed by Commander Steve Hopper, Queens Harbour Master Portsmouth, and co-ordinated from Portsmouth Naval Base.
Deputy Queen's Harbour Master Portsmouth, Lt Commander John Saunders, said: "It is important for all the organisations involved to regularly test the Solfire response plan.
"This ensures we are all aware of our respective roles and are fully competent in carrying them out."