Ship's master criticised for Teignmouth fishing death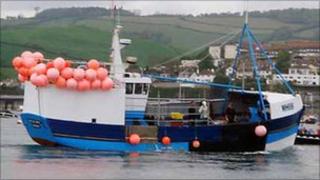 The master of a bulk carrier involved in a collision in which a Devon fisherman drowned has been criticised.
Chris Wadsworth, 21, died when the Weymouth-registered Etoile des Ondes was hit by the Alam Pintar in 2009.
A Marine Accident Investigation Branch (MAIB) report said the carrier's master failed to report the collision and records were falsified or destroyed.
The crabber, which sailed out of Teignmouth, was fishing in the English Channel when it was hit.
'Inexperienced officer'
Three crew members of the Weymouth-registered crabber were rescued, but Mr Wadsworth's body was never found.
The MAIB report said when the collision happened on 20 December 2009 about 15 miles north of the Cherbourg peninsula, the bridge of the Singapore-registered Alam Pintar was manned by an inexperienced officer and an unqualified deck cadet.
The officer of the watch (OOW) had seen Etoile des Ondes and realised there was a risk of collision, but his initial alterations of course to avoid collision were rendered ineffective when the fishing vessel also changed course to start shooting her pots.
Despite the OOW finally ordering the wheel hard-a-starboard, it was too late to prevent the collision.
Both the carrier's master and OOW were aware of the collision, but they failed to stop, failed to make any attempt to confirm if Etoile des Ondes and her crew were safe, and failed to report the incident.
After the 15m (50ft) crabbing vessel was run down, the 90,000 tonne carrier continued to Hamburg.
The report said: "There is evidence to suggest that the crew of Alam Pintar subsequently attempted to alter recorded contemporaneous data to mask the vessel's involvement in the accident.
It also criticised the "poor lookout" on the crabbing boat.
Earlier this year the MAIB was highly critical of vessels it said were in the area when the crabber was hit, but failed to respond to distress calls.
The crew of Etoile des Ondes were eventually rescued by the ferry Norman Voyager.
The MAIB has published safety flyers for the commercial shipping and fishing industries, which identify the key safety lessons from its investigation.
It has also made recommendations to the International Chamber of Shipping and major fishing federations highlighting the importance of effective bridge teams and the maintenance of proper navigational lookouts.