Sainsbury's turns off coffee machines after explosion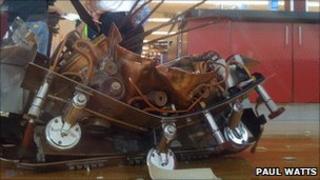 Sainsbury's has taken Elektra coffee machines out of service at all of its supermarkets after several people were hurt in a blast at a Hampshire store.
Six people were taken to hospital when an Elektra machine exploded at the Kingsmead Centre in Farnborough.
Sainsbury's said a ruptured pipe caused the explosion on Tuesday. It has switched off all Elektra coffee machines in its 150 store cafes.
Elektra said it has never had any of its thousands of machines blow up.
The company said it has a team of specialists looking at the offending machine and will await their conclusions before deciding whether to recall any of its products.
In a statement the firm added: "Elektra has produced high quality Espresso coffee machines since 1947.
"We export machines all over the world and the products have been tested... and have never been involved in an accident."
Eye injuries
The Kingsmead Centre store was evacuated but later reopened.
Most of those hurt suffered only minor injuries. Five of those taken to Frimley Park Hospital in Surrey were later discharged, although one person is still receiving treatment.
One of those injured was a 23-year-old woman with head, arm and eye injuries, the ambulance service said.
Sainsbury's said it was meeting the coffee machine's manufacturers, those responsible for machine maintenance and environmental health staff from Rushmoor Borough Council at the supermarket on Wednesday.
The cafe will remain closed until an investigation has been completed.