Plea after war medals found in shoplifter's home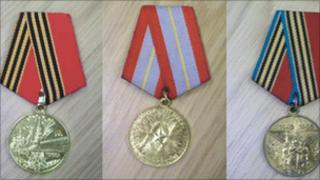 Police are trying to trace the owners of a number of war medals found at the home of a convicted shoplifter.
Fuzel Miah, 30, of Queen Street, Portsmouth, was arrested outside the Co-op store in Isambard Brunel Road last week.
He pleaded guilty to three counts of shoplifting from the store and will be sentenced on 30 September.
During a search of his home officers found the medals, which appear to be Russian, and are appealing for help.
Pc Tony Percival said: "The medals are fairly distinctive and appear to be Russian.
"We believe they may have gone missing anything between eight months and a year ago and we'd like to hear from anyone who recognises them."