Portsmouth's 'haunted' manor house auctioned off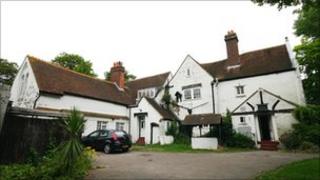 A manor house alleged to be one of the UK's most haunted properties is going under the hammer for £375,000.
Security guards have reportedly refused to work alone at night at Wymering Manor in Portsmouth, believed to be the city's oldest house.
The Grade II listed building, in need of repairs, is a former vicarage, monastery and family home. It was a youth hostel from 1960 to 2006.
It will be auctioned at London's Grand Connaught Rooms on 21 September.
'Unique selling point'
The manor, which was mentioned in the Domesday Book in 1086, has appeared on the television programme Most Haunted and the video website YouTube.
So-called paranormal activity, such as sudden drops in temperature, children whispering and apparitions, have been documented by enthusiasts.
Jeremy Lamb, chartered surveyor at Andrews & Robertson, said: "This is a property of some renown for being haunted, so there is a fair chance a future owner may use it as a guest house because of the novelty factor attached to it.
"It's certainly a unique selling point and not often that we offer a haunted house.
"When I surveyed it, the security guards told me they feel there is something 'fairly spooky' going on in the house and, though they patrol it on a 24-hour basis because it attracts lots of people who are intrigued by its levels of paranormal activity, they refuse to work alone there at night."