Captain reported for drinking on oil tanker fined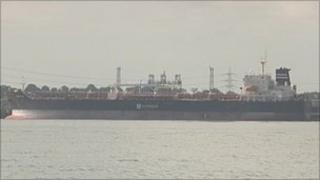 An oil tanker captain reported to police for drinking while in charge of his ship has been fined.
The court heard a pilot helping bring the Nord Fast into Fawley Refinery on Southampton Water on Wednesday reported Rajesh Singh, 41, to Hampshire police.
The court heard Singh was "unsteady on his feet" and "had glazed eyes".
Singh pleaded guilty at New Forest Magistrates Court to failing to provide a breath test. He was fined £1,700.
Captain disappeared
The Nord Fast tanker was carrying about 15,000 tonnes of oil but is capable of transporting up to 41,000 tonnes.
Singh had resigned as Master of the ship and was due to return home to India on Friday.
The pilot said he took over steering the ship into the harbour while Singh disappeared from the deck for about an hour.
When he returned the pilot could tell he had been drinking, the court in Lyndhurst heard.
Although the ship was then tied up and not moving Singh was still deemed to be in charge of an oil tanker while under the influence of alcohol, the court was told.
He has been told he has to pay the fine immediately, before returning to India.