Southampton heart surgery man given too small bed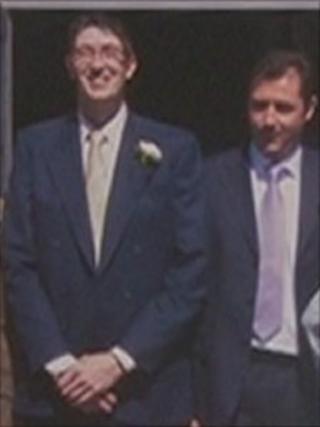 The family of a 6ft 7in Hampshire man who was left in a bed too short for him after undergoing major heart surgery have said they are shocked and angry.
Richard Simpson was unable to sleep after being put in a standard bed with his legs dangling off the end at Southampton General Hospital.
The surgery had been successful despite him being told he had a 20% survival chance.
The hospital has apologised and said it found a bigger bed two days later.
Mr Simpson's brother Stewart had flown in from Austria, where he lives, and said he immediately noticed the bed was too small.
He said: "His legs and ankles and feet were dangling off the end. It was uncomfortable, it arched his back and he couldn't sleep at all.
"When you've just come out of the operating theatre after such a major operation and you can't sleep at all because of excruciating back pain because the bed's not long enough that doesn't help recovery at all.
'A nightmare'
"He wasn't expecting to see this week, he wasn't expecting to see anything ever again, he wasn't expecting to wake up again.
"He did wake up but to a nightmare."
The hospital found a bigger bed two days after the seven-hour operation, which happened on 1 September.
Mr Simpson is now recovering at home.
Southampton General Hospital said in a statement: "We apologise that the correct bed had not been ordered for Mr Simpson.
"Usually, any special requirements would be picked up at a patient's pre-operative assessment and a longer-length bed would be ordered in for their stay.
"Our nursing team did try to make him as comfortable as possible by removing the foot of the bed but we appreciate this was far from ideal and are sorry that the right size bed had not been ready for him."