New Army's HQ Land Forces base is opened in Andover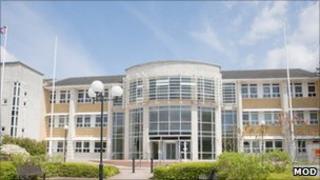 A new £44m headquarters for the British Army's land forces has been officially opened in Hampshire.
More than 2,000 military and civilian personnel are already working at the Marlborough Lines site in Andover.
They moved in between May and July, primarily from Wilton in Wiltshire and Upavon on Salisbury Plain.
Armed forces minister Nick Harvey and the Commander-in-Chief Land Forces, Gen Sir Peter Wall, declared the facility operational at 1400 BST.
The unit, described as the "brains of the Army", formed in 2008 from a merger between Land Command and HQ Adjutant General.
'Modern working'
Commanding Officer Lt Col Norrie Robertson said the site in Wilton was no longer suitable for their needs.
The cost of the move will be recouped in eight years through efficiency savings and the sale of the Wilton site, an Army spokeswoman said.
She added: "Combining the two headquarters was a cost-effective move to improve HQLF's ability to provide the military capability to conduct and support operations, with less duplication of staff work, more effective ways of working and improved internal communication.
"The new headquarters' buildings provide a modern working environment that is more efficient, economical and environmentally friendly."
Those in married quarters will remain in Wilton and commute to the new workplace 20 miles (32km) away. The Army has arranged "assisted transport" for those who do not drive.
The Wilton site will be closed and advertised for sale by the Army's Defence Estates, possibly for housing or light industry.