Gosport 'dependent on businesses in vulnerable sectors'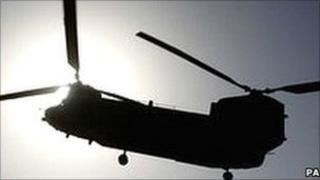 Gosport is more dependent on businesses in vulnerable sectors, such as construction, than anywhere in England, a BBC-commissioned study has suggested.
One of the Hampshire town's major employers is Portsmouth Naval Base and the majority of its 79,000 residents are skilled manual labourers.
As a result, many will be employed on transient contracts.
The research by Experian - looking at England's resilience to economic shocks - also found low self-employment rates.
Long-term outlook
In December last year the previous government announced Vector Aerospace, which is based in town, would be provided with "a lot of work" carrying out maintenance and repairs on 22 new Chinook helicopters manufactured in the US by Boeing.
However, Councillor Michael Lane, chairman of the Gosport Economic Forum, is very positive about the town's future.
He told BBC Radio Solent: "In financial terms, I think we are a place of opportunity.
"We are delighted that there are people in business in Gosport creating jobs.
"For example, the other day we had the opening of a new data centre locally, Redstation.
"A business which started here only a couple of years ago that's done well enough to expand and create a brand new state of the art data centre - [generating] more than £1m of investment."
Gosport also has some stark social divisions with the large council estate of Rowner, once named one of the worst in Britain.
Built by the Ministry of Defence (MoD) for Royal Navy personnel and their families in the 1950s, it was later sold to private owners and then suffered from a lack of investment.
But its now undergoing a major £140m revamp under the Rowner Regeneration Project.
Seven hundred new homes will be built, along with a 10-storey apartment block by 2017.
Mr Lane added: "The Rowner, which I had something to do with some time ago, is going very well.
"I think most important for the future will be facilitating appropriate partnerships with the business community who are focusing on the long-term sustainability of business.
"That's where our focus needs to be."
South Today will be debating the issues raised in the spending review tonight at 2235 BST.
Radio Solent will be discussing the research from 0700 BST.