Isle of Wight boundary row reaches Westminster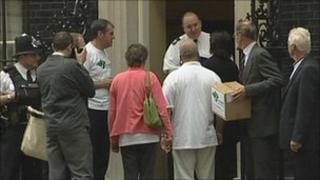 The campaign to stop the Isle of Wight being split into two parliamentary constituencies has been taken to Downing Street.
Electoral reform plans suggest creating constituencies across the country of 75,000 voters, but the island currently has 110,000.
More than 16,000 people signed the petition that was taken to London on board the One Wight Battle bus.
Meanwhile island MP Andrew Turner spoke on the issue in the House of Commons.
Islanders fear smaller island constituencies could mean 35,000 voters being added to a constituency in Hampshire, meaning their MP could be from the mainland.
Deputy Prime Minister Nick Clegg has said the nationwide electoral reform proposals would reduce the number of MPs by 50, to 600, which could save taxpayers up to £12m a year in salaries, pensions and allowances.
Ian Ward, of the One Wight campaign, said: "I think they've not really taken communities into account, and when they realise that the Isle of Wight is one community, I think it will have a great influence on their decision."
'Perfectly content'
Speaking in the House of Commons on Monday, Conservative MP Mr Turner asked Mr Clegg: "Will the right honourable member accept that the members living on the Isle of Wight are perfectly content with one member?
"It doesn't need to be bigger."
Mr Clegg said he realised how "popular" Mr Turner was among residents, adding "he will know better than I do that the number of MPs who have represented the Isle of Wight has changed quite dramatically down the ages".
"I think there were once eight MPs," he added.
"And I understand this is a controversial proposal in the Isle of Wight, but equality of size as a general rule... seems to us to be a cornerstone of this bill."
The Boundary Commission has until 2013 to make recommendations.