Southampton Titanic Engineers Memorial unveiled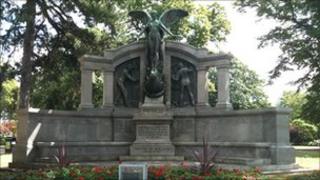 A newly-restored memorial marking the bravery of the engineers who died when the ill-fated RMS Titanic sank 98 years ago has been unveiled in Southampton.
Almost 550 people from the city lost their lives when the ship, which set sail on 10 April 1912 en route to New York, hit an iceberg.
The Titanic Engineer's Memorial in Andrews Park was unveiled in 1914.
Restoration work on the bronze monument began last month and the new memorial was revealed earlier.
'Heroism and sacrifice'
In total 1,523 people died on the Titanic in the ill-fated voyage.
The original monument was funded with worldwide donations.
The restoration project is a joint initiative between the city council and independent company Twenty Twenty Television which is filming a series about the ship.
Councillor John Hannides, member for leisure, culture and heritage, said: "When the ship sank, 549 people from Southampton tragically lost their lives and hundreds of families in the city were directly affected.
"The impact was felt around the world, but nowhere more so than in Southampton.
"I think I speak for the majority in recognising the heroism and sacrifice of the ship's engineers, who remained at their posts until the bitter end, keeping the lights working so that passengers had a chance of finding their way to the lifeboats."